A3800
Compact size on-line monitoring system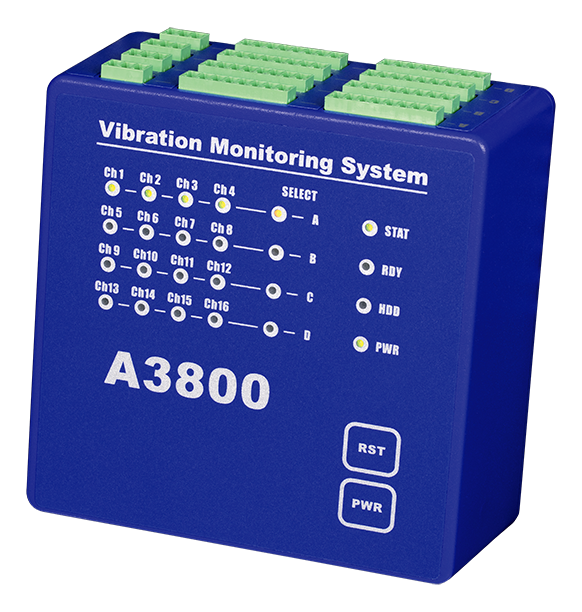 The A3800 unit is the compact size on-line monitoring and diagnostic system. It is designed to increase machine reliability. The small size of the A3800 enables to mount it directly on the DIN rail. The optional number of channels (4, 8, 12, 16) is available on the A3800 unit. The same number of AC and DC channels are always available. The 4 tacho sensors can be used in 16 channel option. The number of channels is determined by the license file. When the user wants to increase the number of channels, then only the new licence file is written to unit memory. No unit disassembling is required. Each group of 4 channels measures fully simultaneously. Individual groups of 4 channels are multiplexed.
The A3800 unit can be also used as a powerful multichannel analyzer. The setting and control is made by VA4 Pro - Virtual Unit software (free download).
Adaptive Algorithm of Data Acquisition see more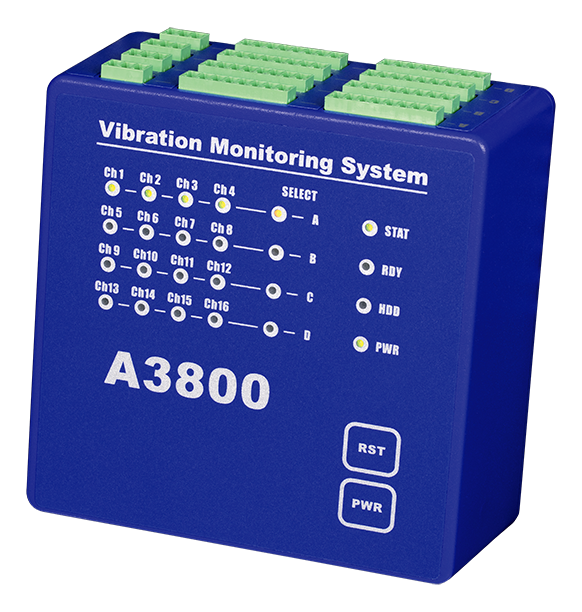 Optional number of input channels
4 – 16 channels AC
4 – 16 channels DC
1 – 4 TACHO inputs
Adaptive algorithm of data acquisition
Compact size, DIN rail mounting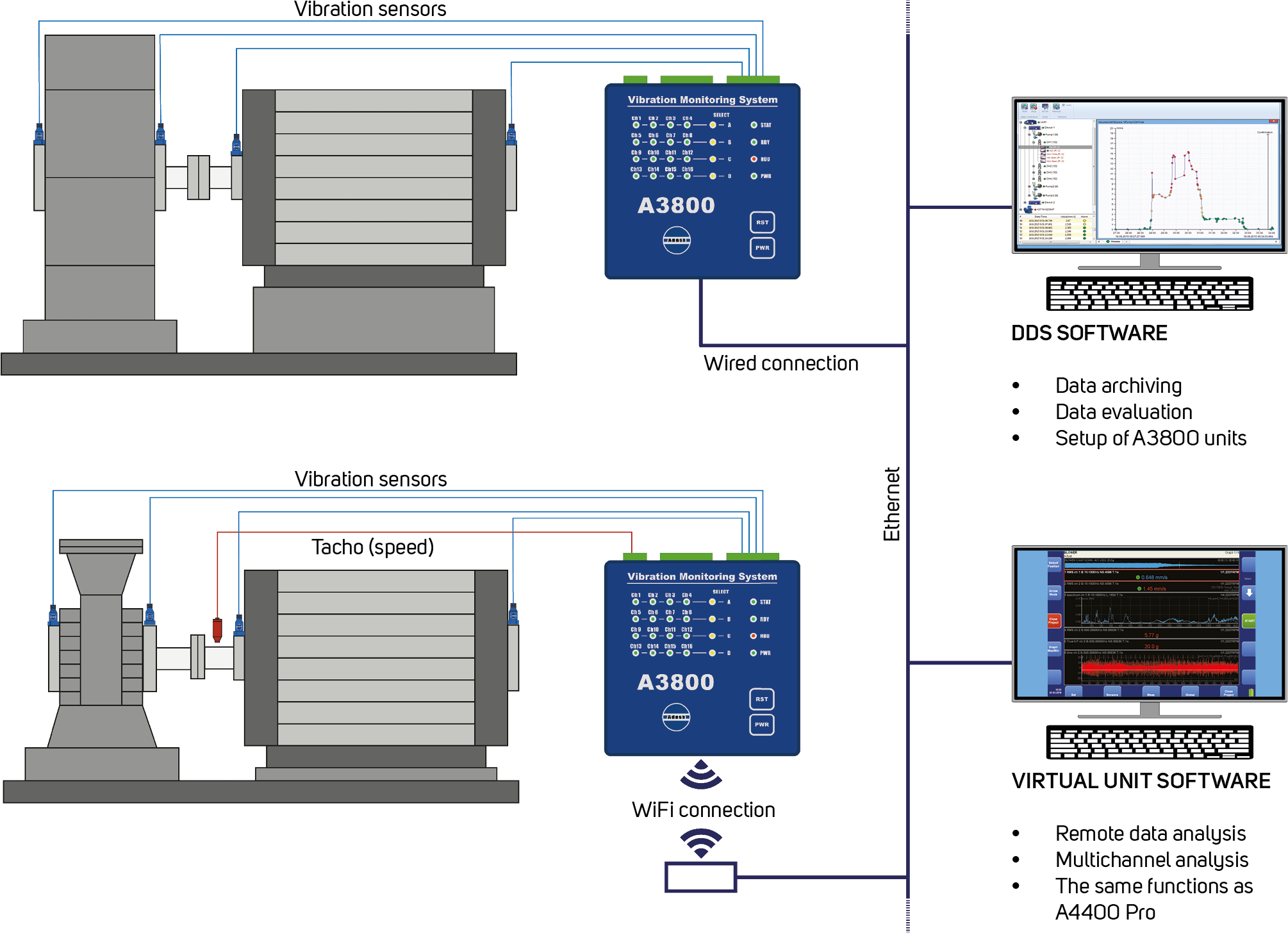 Input channels AC:

4 - 16 AC, ICP® power supply on/off
input impedance 100kΩ
integration single, double
high pass filter 1 Hz - 12800 Hz
low pass filter 25 Hz - 25600 Hz
Input channels DC:

4 - 16 DC for process values
input impedance 100 kΩ (VDC), 250 Ω (mADC)
TACHO inputs:

1 - 4 independent TACHO for external trigger
speed range 0,8 Hz - 1000 Hz
Input range:

AC +/- 12 V peak-peak
DC +/- 24 V or 4 - 20 mA
TACHO +10V
AD conversion:

24 bit, 64 bit double floating point internal signal processing
No AutoGain function!
Dynamic range S/N:

120 dB
Frequency ranges:

max. 25,6 kHz (16 Ch, 65,5 kHz sampling)
Sampling mode:

Fully simultaneous for group of 4 channels
FFT resolution:

Min. 100 lines
Max. 25 600 lines
Processor:

Intel Atom E3815 - 1.46 GHz
Memory RAM:

2 GB
Internal hard drive:

SSD 32 GB
Data acquisition:

Overall values
Time signals
FFT real time analysis
DEMOD - ENVELOPE analysis
ACMT - low speed bearing analysis
order analysis
user band pass analysis
RPM measurement
DC measurement
Orbit measurement
Speed measurement
Signal Recorder:

64 kHz sampling frequency
4 Ch memory consumption 3 GB/hour
4 Ch total recording - 10 hours
Trigger:

free run, TACHO, external (voltage)
Communication:

Ethernet 1GB RJ45
Temperature range:

-10˚C to +50˚C
Power:

DC 12 V
Case:

aluminium box
Size & Weight:

117 x 117 x 58 mm (without connectors)
800 g