A3900 II
1 - Channel Online Monitoring System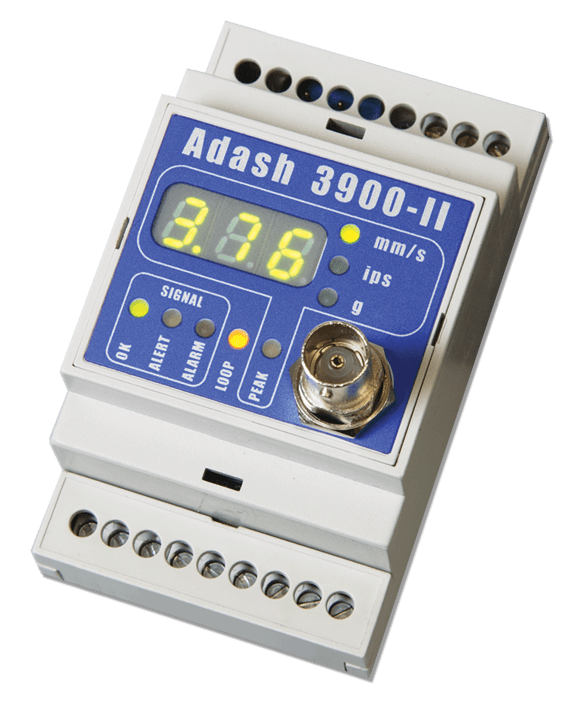 The A3900 is a simple one channel online monitoring system. Measured value is displayed on the front panel and can be transferred to the control system through 4-20 mA current loop output. Green, yellow and red LEDs informs you about the machine/bearing vibration state. The A3900 unit includes one programmable output "ALARM" relay.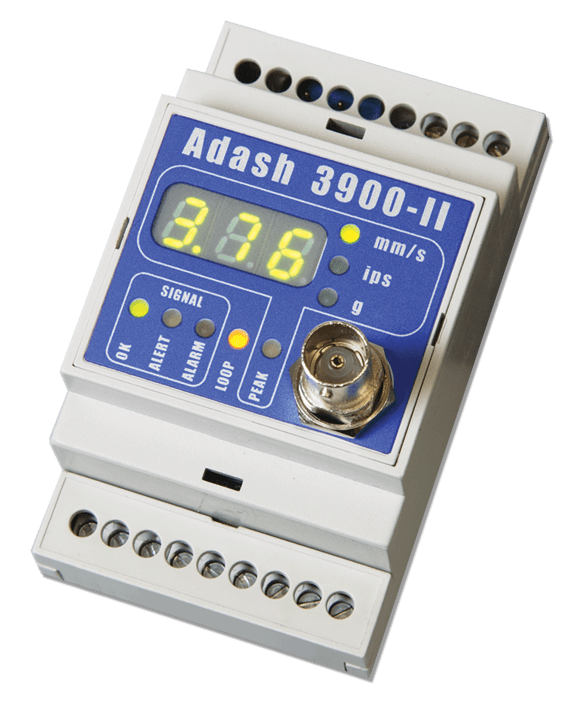 1 channel, selectable value: [mm/s] / [ips] / [g]
Display of actual value
4-20 mA current loop output
Relay output
Easy PC setting
Inputs:

ICP® for acceleration sensor. Input is able to process signal with maximum voltage ±5 V
Outputs:

4- 20 mA current loop (selectable active/passive) with setting of range of measured unit
Measuring Ranges:

0 – 99.9 g, 0 – 999 mm/s (by sensor sensitivity, input signal: max. ±5 V)
Frequency Bands:

[ g ] 0,8 Hz – 16 kHz
[ g ] 5 kHz – 16 kHz
[ mm/s ], [ ips ] 10 Hz – 1 kHz
Frequency ranges could be changed under request.
Sensor:

accelerometer, ICP® powered
LEDs:

Vibration state indication according to defined vibration limits
Power indication
ICP® error indication
Powering:

20 - 28 V DC (70mA/24V DC), external current loop supply (10-30V DC)
Dimensions:

90 x 53 x 58 mm
Weight:

130 g
Protection:

IP 20